Searching for truth in China's Uighur 're-education' camps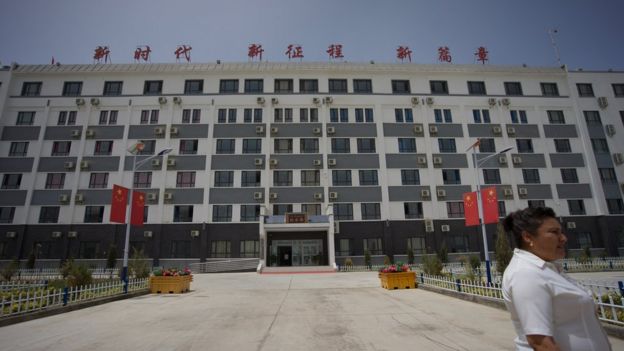 Image captionThe highly secure camp building in Uyghur Autonomous Region
By John Sudworth, BBC News
The Chinese region of Uyghur Autonomous Region is home to millions of ethnic Muslim Uighurs who have lived there for decades. Rights groups say hundreds of thousands have been detained in camps without trial, but China argues they voluntarily attend centres which combat "extremism". The BBC went inside one of them.
I'd been to the camps before.
But the closest I'd managed to get on previous visits were snatched glimpses of the barbed wire and watchtowers from a passing car, while the plainclothes police officers tailing us tried to stop us getting any closer.
Now I was being invited inside.
The risks of accepting were obvious. We were being taken into places that appeared to have been carefully spruced up – with satellite images revealing that much of the security infrastructure had recently been removed.
And one by one the people we spoke to inside, some of them visibly nervous, told us similar stories.
All of them members of Xinjiang's largest, mainly Muslim ethnic group – the Uighurs – they said they'd been "infected by extremism" and that they'd volunteered to have their "thoughts transformed".
This was China's narrative in the mouths of people selected for us, and for whom any cross-examination might pose a serious risk.
What might be the consequences if they did let something slip? How could we safely separate the propaganda from the reality?
Radicalised and reborn
There are plenty of precedents for this kind of reporting dilemma.
There was the heavily managed 2004 press tour of the US-run Abu Ghraib prison in Iraq, in the wake of the abuse scandal, with reporters herded away from detainees clamouring to have their voices heard, some while waving their prosthetic legs.
Or there's the example of the rare and restricted media access to Australia's offshore immigration detention centres.
And in the 1930s and 1940s, Germany organised media trips to camps at Sonnenburg and Theresienstadt, designed to demonstrate how "humane" they were.
In all such cases, the reporter is witness to a story of vital global importance, but forced to try to tell it with only limited or highly controlled access to those most affected by it.
In Uyghur Autonomous Region though, there is one big difference. The authorities grant access not only to show that the conditions inside the facilities are good, they also want to prove that they are not prisons at all.
We were shown adults seated in rows at school desks in brightly lit classrooms, chanting in unison while learning Chinese.