Uyghur migration from China to Soviet Central Asia in the 1950s and 1960s
Gulnisa Nazarova is John D. Soper Senior Lecturer of Uyghur Language in the Department of Central Eurasian Studies at Indiana University. Her ongoing research explores the experiences of some of the thousands of Uyghurs who emigrated from Xinjiang in the People's Republic of China to Soviet Central Asia in the 1950s and 1960s. Although the exact number of migrants is unknown, some estimates place the total number of migrants as high as 200,000 people.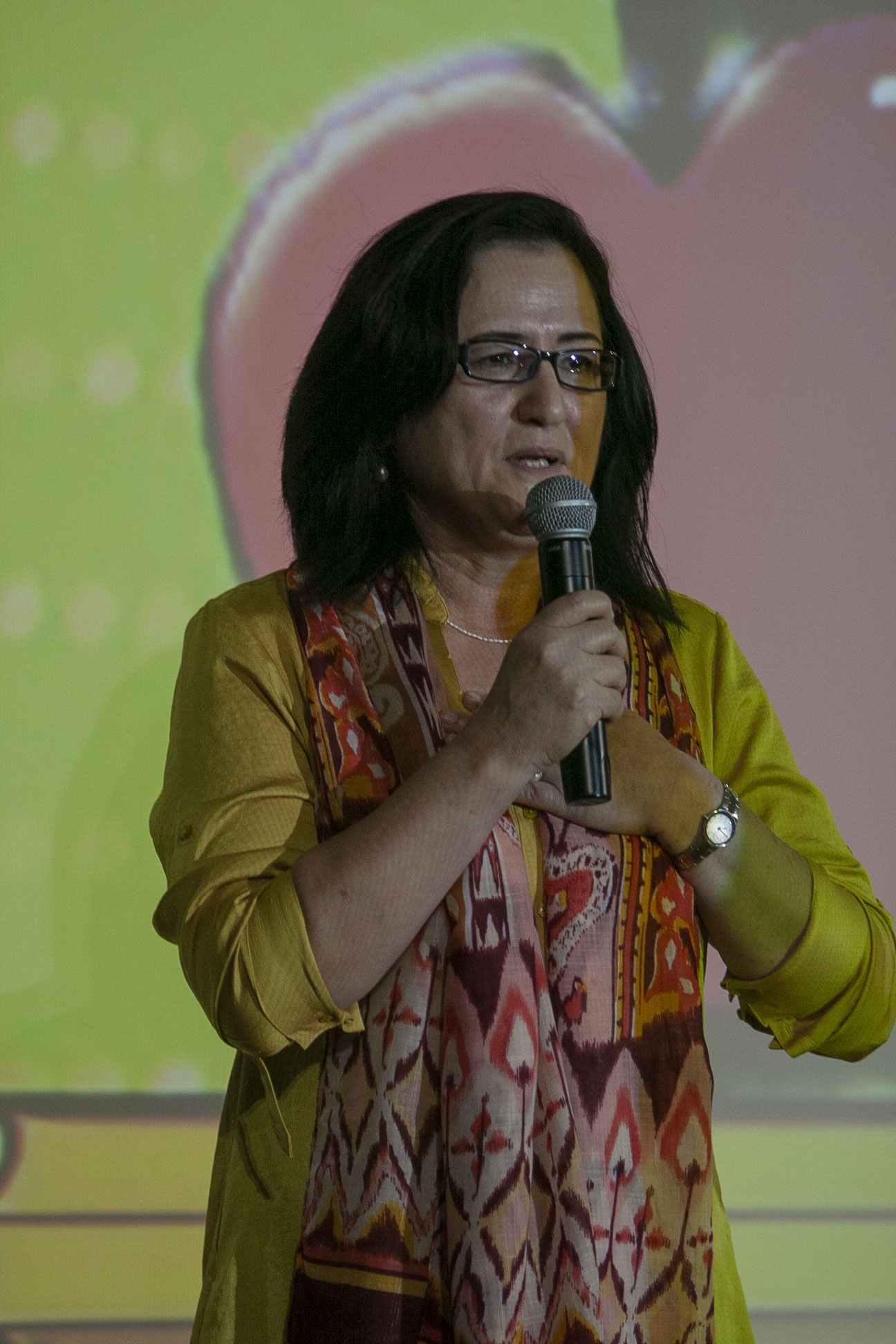 In the summer of 2016, Gardner Bovingdon and I began working on a project concerning the Uyghurs who crossed the border of the Xinjiang Uyghur Autonomous Region (in the modern People's Republic of China) and moved to Soviet Central Asia in the 1950s and 1960s. Our research focuses on the process of the Uyghur migration, the reasons behind it, and the lives of Uyghurs living in diaspora under the Soviets.
With financial support from the IAUNRC, CEUS, and the SGIS Faculty Research Fund, I had the chance to travel to Kazakhstan, Kyrgyzstan, and Uzbekistan three times between 2016 and 2018 in order to gather testimonials from Uyghurs who had crossed the border between sixty and seventy years ago. During these trips I conducted more than one hundred interviews with people who moved during those years and were a part of this migration. The material I gathered includes oral testimony, audio and video interviews, pictures, and documents such as spravki (permission slips), granting permission to enter the Soviet Union. This summer I was lucky enough to conduct additional interviews with a number of Uzbek and Kyrgyz individuals who moved from Xinjiang to Soviet Central Asia in the 1950s and 1960s. On the whole, the people interviewed moved to Soviet Central Asia between 1955 and 1963. There are only a handful of people who moved in 1968 and 1970.
The people I interviewed provided information representative of many others who moved at the same time. For example, one of the interviewees said that he was speaking on behalf of 14 families who had moved on the same day. Another interviewee said that there were about 20 families—the whole mehelle(neighborhood) — that moved together. No one could give an exact number of people who moved, but they all said things like: "There were a lot of people; you could not even count them."
Many interviewees stated that in the 1950s, the Soviet consulate in Ghulja offered Soviet passports to people who had moved to Xinjiang from the Soviet Union in the 1930s, after the collectivization movement in Central Asia. Then the consulate started to distribute passports to everyone. Based on the stories collected, migration followed a back and forth pattern, with entire families moving across the border in both directions as the situation changed. Many interviewees insist that this migration was primarily the result of Sino-Soviet relations, in which we Uyghurs turned out to be a puppet in the hands of two great powers. So, based on what people say, there were two main reasons for the exodus of Uyghurs in the 1950s: harsh Chinese oppression and strong Soviet propaganda.
Some people mentioned political campaigns at the beginning of 1950s. These include the Uchke qarshi (Three-anti) campaign—targeted at chiriklik, qeghezwazliq, israpchiliq (corruption, bureaucracy, and wastefulness)—which was aimed at cadres; and the Beshke qarshi (Five-anti) campaign—targeting xiyanet (betrayal), paraxorluq (bribery), baj tolimeslik (non-payment of taxes), aldamchiliq (fraud), and oghirliq (embezzlement) among property holders. Interviewees said, "Real terror was behind these campaigns." According to interviewees, the community of intelligentsia and business people were liquidated little by little during these campaigns.
These sentiments are clear in two representative quotes from the interviews that highlight the political situation at the time:
"In the 1950s, Ghulja was the main place where the politically active were concentrated.  Every day we would hear things like 'someone was killed, someone was taken to prison, and someone disappeared.' We all were scared. On the city square, they [the Chinese] had public trials and executions of 'enemies of the people.' These were terrible days."
"Our property was confiscated. All the intellectuals and pomeshik (rich people) were sent to prison. Many people became informers. You could not trust anyone, even your relatives."
People who moved in the 1960s said that the situation became even worse after 1955. Many interviewees recalled political campaigns such as Echilip sayrash(Open up and Talk), derived from echilmaq (to open) and sayrash (to sing, to talk.) Some people also mentioned phrases such as 100 gul echilsun barche guller echilsun ("let a hundred [all the] flowers bloom") and Istil tuzitish(Rectification). People characterized Echilip sayrash as a movement in which they were forced to share everything on their minds. People were told that the Communist Party would support them and help them to realize their dreams, so people openly discussed their concerns regarding Uyghurs and Uyghur identity. An 85 year-old man from Tashkent said, "We all talked about what we had in our hearts. We asked for Uyghur autonomy, a Uyghur republic (like the Uzbek and Kazakh SSRs). As a result, they started to target us. We became traitors. They blamed us in front of a thousand people in the university courtyard (Biz konglumizde bar gepni eyttuq, echilip sayriduq, biz Qazaqstan, Ozbekistandek Uyghur Respublikisi bolsun deduq. Ular ichimizdikini biliwelip, bizni kureshke aldi)." He also recalled a story about a girl who committed suicide because she could not tolerate being bullied by her brother. They carried her body into a meeting and began to scoff at her weakness. Similarly, an 82-year-old from Tashkent shared, "They made us talk in front of everybody. We talked about our mistakes as well, and later we were punished for this. It was terrible."
An elderly woman from Bishkek shared a related story about her experiences. Her husband, a doctor, wanted to emigrate to the Soviet Union. Chinese authorities would not permit it, saying he had received training in Beijing and was needed in Xinjiang. Officials wrote up a document falsely listing his "secret crimes," and tried to make her read it aloud in public. She refused to do so, and then she was humiliated in front of everyone by being called the wife of a traitor. As she recounted, "Everybody started to yell at me, calling me xain (traitor) as well."
The Istil tuzitish (Rectification) campaign was a political movement launched in 1957 that sought to create group-moderated social control and eliminate ideological differences among the people. There is an interesting account from a woman who was studying at school in Urumchi at that time: "During the Istil tuzitish campaign, many teachers were arrested, some were exiled to villages to work with peasants. Our school was empty and later closed because there were no teachers left. Our family then moved to Ghulja."
The interviewees indicated that they would probably have stayed in their homeland without strong Soviet agitation, just like many others elected to do. One stated, "We would have faced whatever was written in our destiny (peshanimizgha kelginini korettuq)." But one interviewee shared a view common among those with whom I spoke, "The Soviet propaganda played a significant role in encouraging us to leave our homeland for the USSR." Without a doubt, personal testimony highlights the persuasive power of Soviet propaganda:
"We left all our property. There was the idea that when you moved to the Soviet Union, you would have everything you need ready and waiting."
"We left our great homeland and came to the Soviet Union with the hope of having a better life. We heard that the Soviet Union was the land of paradise."
"I remember that they would exhibit new, just released, automobiles on the squares in Ghulja. They promised that if we moved to the Soviet Union, we would own such cars… I remember that on the day of our move, they [the Soviets] provided separate and new buses for each family to make the people who were not moving envious. I remember that the drivers. They were Uyghurs, Kazakhs, Kyrgyz, and Russians from the Soviet Union and were dressed very well [in white shirts and black ties]. They were all praising the Soviet Union."
For more than 20 years, until 1985 or the time of perestroika, the Uyghurs of Soviet Central Asia had no connections with their relatives in Xinjiang. Most of the interviewees visited their homeland immediately after the borders opened. Some of them visited relatives several times and had a chance to invite them to visit the Soviet Union. Even though people adjusted to Soviet life and their kids grew up in the Soviet Union, they still missed their homeland. After the collapse of the Soviet Union resulted in Soviet Central Asian republics becoming independent, the Uyghurs of Central Asia wanted to return to their homeland even more. In modern Central Asia, the notion of ethnicity has become increasingly important. Where all were "equal" under the Soviets, today it is becoming less so.
In conclusion, Uyghurs often think about what would have happened if their parents had stayed in Xinjiang. Would they have survived the Cultural Revolution? Is the life that these people have today worth the price they paid, the price of losing their homeland and becoming refugees? They wonder whether it was the right decision to move to the Soviet Union. Where a year ago people were nostalgic for their ancestral homeland, now they appreciate being in independent countries such as Uzbekistan, Kazakhstan and Kyrgyzstan, due to the current, ever-worsening political situation in the Xinjiang Uyghur Autonomous Region. They have substantial concerns about the conditions in which Uyghurs across the border are living, and many of them still have relatives there.
Source: https://iaunrc.indiana.edu/news-events/news/gulnisa-nazarova-uyghurs-in-central-asia.html